Hungary: Retail shows the 1st possible sign of W shaped recovery

2

min read
After a downside surprise in the previous month, September brought a similar story. Consumption has already been weakening and a difficult winter is still ahead of us.
The recovery in Hungary's retail sales continues to weaken. After an unexpected setback in August, the sector's performance caused a significant downside surprise again. In September, a 2% year-on-year decrease (calendar adjusted) was measured by the Central Statistical Office. However, we have something to moderately cheer about: the month-on-month growth came in at 1.0%, based on seasonally and calendar adjusted data.
In our view, one of the reasons behind the weaker-than-expected retail performance is missing tourism which used to be an important driver, especially in Budapest in early autumn. The start of the second wave of Covid-19 in September could be also in play. On top of that as temporary furlough schemes ended in August, the autumn months might be affected by a decrease in real disposable income as companies started the layoffs.
This idea is backed up by the detailed data. The sales volume of non-food shops dropped by 3.8% YoY. The last time we saw a decrease was in the spring, affected by the lockdowns and curfew measures. The alarming part of the September data is that similar measures were not taken by the government at that time. In all, the latest developments in retail sales are increasingly pointing to a W-shaped recovery, as the second wave of the pandemic hits the country, boosting precautionary savings and declining consumer confidence, having a serious impact on consumption.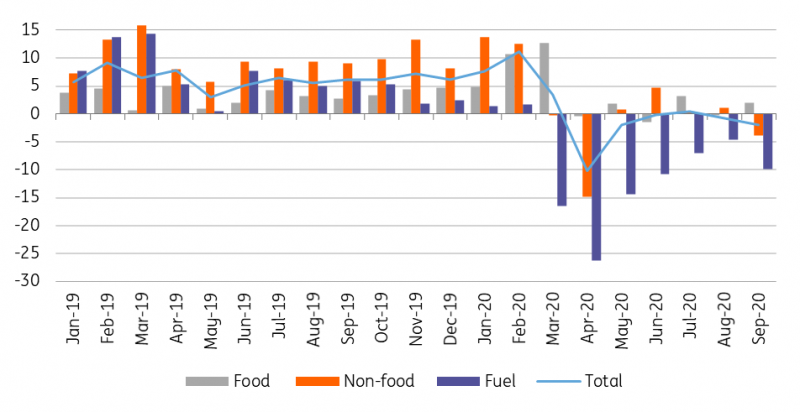 Of the three main sub-sectors, only food shops were able to show moderate growth, while the onset of the second wave of Covid-19 again pushed back fuel consumption. This is because many companies may have decided to reintroduce the Work From Home concept. Moreover, as the summer holiday season ended, the decline in domestic tourism may have also played a role.
Retail sales volume and quarterly performance